Klein Recognized for Leading Innovative Genomics Health IT Company
Genomenon announced today that CEO Mike Klein has been named to TechCEOs list of "Top 25 Biotechnology CEOs of 2020". Klein was recognized for leading Genomenon, one of the most innovative health IT companies in genomics. Genomenon's AI-powered genomic search engine is used by nearly 10,000 clinicians across 118 countries to diagnose rare disease patients from their DNA.
Genomenon provides unique and powerful solutions that transform hidden genetic data and evidence into actionable intelligence for clinical laboratories and pharmaceutical companies. The use of Mastermind has led to numerous breakthroughs, where the information required to diagnose and treat patients with a rare disease would not otherwise have been found.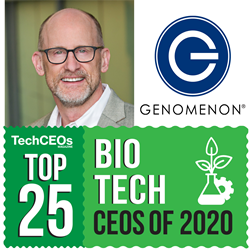 In Klein's profile, "Revolutionizing Precision Medicine", he credited the brilliant team of founders that created the technology to organize the genomic discoveries found across all the scientific research and made this life-changing technology accessible to doctors, pharmaceutical companies, and researchers.
Before Genomenon, finding the research related to the genetic cause of a rare disease was incredibly time-consuming and difficult. Genomenon's AI-tools have organized the world's genetic research into a single place. With a simple search, doctors find all the research connected to a patient's DNA at their fingertips – making it possible to diagnose and treat previously undiagnosable rare disease patients.
"Our proudest moments are when we hear from clinicians how they diagnosed a patient using our software that would have otherwise remained undiagnosed and untreated," explained Klein. "Our technology makes it easy for doctors to find the answers that can save patients' lives."