DMAI, Inc., a leading developer of Artificial Intelligence (AI) enabled education solutions, announces the official online and retail launch of its new Animal Island Learning Adventure (AILA) Sit & Play™ Plus, enhancing the virtual preschool learning system at home and daycare. This learning bundle includes the award-winning virtual preschool system for toddlers, AILA Sit & Play, and a 400+ page Read Aloud Stories Book containing the complete library of all 60 curated storybooks animated and played on AILA Sit & Play.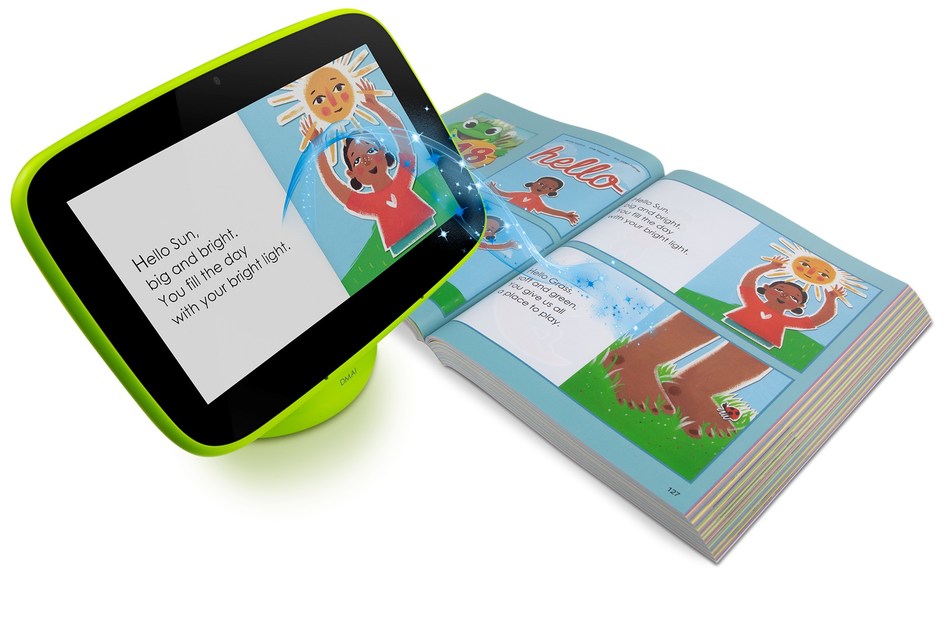 Thousands of families have started their early learning journey with the award-winning AILA Sit & Play virtual preschool system since its launch in March 2020. For toddlers 12 months and up, AILA's curriculum-based activities come exclusively on a toddler-friendly device that is a hands-free, worry-free, all-in-one edutainment system to help little ones meet critical early learning milestones. Parents and caregivers do not have to worry about researching, curating and monitoring child-friendly educational content as AILA's original series helps children develop literacy, numeracy, social and emotional skills and AILA's artificial intelligence delivers the right content at the right time.
AILA Sit & Play Plus expands that joyful learning experience by creating a bridge between the virtual preschool's interactive lessons and tangible, handheld stories parents and daycare teachers can enjoy together with toddlers any time. The new softcover Read Aloud Stories book visualizes the 60 age-appropriate stories that are animated and played on AILA Sit & Play, all of which were thoughtfully curated by DMAI educators and innovators based on the essential early preschool curriculum for children. With this enhancement, AILA Sit & Play Plus gives parents and caregivers the exposure to the same educational content that their little one is learning.
"It has been thrilling to hear from families with children who have learned their first letters, pronounced their first words, sung their first songs and read their first stories because of the AILA Sit & Play virtual preschool learning system. With AILA Sit & Play Plus, we equip parents with even more ways to join their child in this learning journey," said Helen Fu Thomas, Chief of Staff and CMO, DMAI, Inc.
"My 15-month-old daughter, Logan, already enjoys hearing stories from her favorite AILA Sit & Play characters. Now, the Read Aloud Stories is the first book she reaches for," said Jenny White, AILA Community Manager. "I love the flexibility AILA Sit & Play Plus offers. Logan can learn on her own in 15-minute sessions while I'm moving the laundry or helping my older son with his homework, and then Logan and I will read a story together before her nap time that brings in what she's already learned. It's like I'm climbing into the learning experience with her."