We are living in the age of digital transformation. How is artificial intelligence advancing businesses for good?
Over the years, there have been many significant developments in business technology and process automation. But none of these technological breakthroughs has been as revolutionary or forward-thinking as artificial intelligence (AI). This technology has developed into a potent tool for company growth.
Organizations of all sizes are utilizing artificial intelligence (AI) for a variety of business processes and improving consumer experiences, which is transforming how businesses function across industries. This is especially true when considering how technology may progress in the future. AI gives firms a solid foundation for making operationally sound decisions, enabling them to streamline operations and boost profitability.
However, what is artificial intelligence, and how can it be applied to improve business procedures? This blog has got you covered. Read on!
What is Artificial Intelligence (AI)
Artificial intelligence (AI) is a field of computer science concerned with creating systems and procedures that can perform and respond in the same manner as a human operator. Computers can now use vast amounts of organized and unstructured data to do almost countless jobs while applying problem-solving, rationalization, and predictive analysis using AI-driven technology.
Each of the numerous technological components that make up AI adds to the overall effectiveness and accuracy of the solution. Artificial intelligence-driven systems can forecast analytical results and continuously increase their accuracy when patterns develop in the way that particular data types are stored or processed over time.
"Artificial intelligence is shaping the way modern businesses approach their digital transformation plans."
How Is AI Transforming Businesses?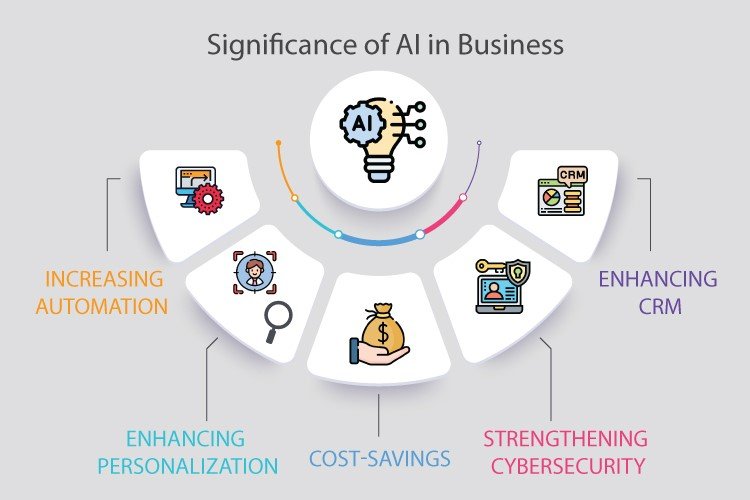 AI and automation are revolutionizing how businesses run and will keep boosting productivity and revenue. With automation, more human tasks will be completed by machines, even with an increased ability to undertake tasks beyond people's capabilities. It's vital to highlight that the AI revolution has led to the creation of various employment opportunities, including those involved in managing and programming AI systems. You can prepare for the future of the industry you want to work in by upskilling into roles that complement AI systems. This will assist productivity and growth in organizations.
Enhancing Personalization
Businesses, particularly marketers, can now tailor their offerings to individual customers using AI. Businesses compete for more than just their products since customers have less time and are more used to technology. They want to provide the finest customer personalization and experience. Marketers can target individual customers with their ads by analyzing data and developing algorithms to discover and comprehend consumer behavior. This makes it possible to make these offers and customize goods and services to customers' demands.
AI is becoming affordable for organizations as it becomes more efficient, dependable, and widely used. AI is frequently the most economical choice due to the drawbacks of human labor, such as time and resource constraints. Additionally, the possibility of implementing technology is appealing to organizations since it has the potential to boost productivity and reduce boring, repetitive jobs. Your AI expertise can be used to weigh the benefits and dangers of adopting cutting-edge technologies and business strategies.
Strengthening Cybersecurity
Cybersecurity is no longer a concern on a human scale due to the increased number of potential cybersecurity threats. AI solutions effectively lower the risk of breaches and enhance a company's security posture. Although it may seem strange to rely on computer programs to increase computer security, many cybersecurity breaches within organizations result from human error. Before employees view emails, AI can filter out potentially harmful links, spam, or phishing emails, reducing this risk. These technologies improve with time as well, using historical data to recognize new varieties of threats.
Customer Relationship Management (CRM)
CRM will help your staff be more productive and boost their efficiency when paired with AI capabilities. It can help them manage particular duties, such as calendars, making phone calls, setting up meetings, taking notes, and aiding them in all manual tasks. Organizations can intelligently automate manual tasks and restructure the workflow using AI and CRM connectivity. Businesses can assess the sales funnel and accurately forecast consumer behavior and income using CRM. AI can supplement CRM to improve business operations through virtual employee support, lead prioritization, and accurate customer segmentation.
Wrapping Up
With the development of technologies, AI is expanding opportunities and elevating enterprises to new heights. It is one of the disruptive technologies that is currently transforming businesses. Artificial intelligence can help your company grow and gain a competitive advantage if used properly. Many businesses are judiciously integrating AI technology into their operations to help achieve ambitious plans.
Artificial intelligence can help your company become more profitable and competitive by automating ordinary business activities. Businesses anticipate seeing even greater process automation and efficiency as this technology develops over time, opening up fresh possibilities for growth and expansion.
Visit AITechPark for cutting-edge Tech Trends around AI, ML, Cybersecurity, along with AITech News, and timely updates from industry professionals!