Indranil focuses on the role of evolving AI / ML technology to analyze real-time data for worker safety and enhanced productivity
1. Tell us about your role at Guardhat?
Guardhat is an early stage start-up venture backed by investments from some of the largest industrial corporations globally. We have been developing our product (devices & the connected worker software platform) for over 5 years. December '2019 was when we started going out to the market with our solution.
My role cuts across customer acquisition, product implementation, deployment of our solutions, marketing, building alliances and creating channel partners apart from working closely with the engineering team to decide on our product road map.
2. Can you tell us about your journey into this industry?
My background is in consulting. I have worked with PwC, GE, NTT DATA and have had the opportunity to engage as a consultant, project/program manager before moving on to revenue generating & customer facing roles in sales, marketing and eventually leading business units in large corporations. I have worked across geographies (US, Europe, India) and industry verticals (Manufacturing, Media, Telecom, Professional Services).
We have seen in the last 10 years a rapid evolution of technology, which has brought about a paradigm shift on how corporations function today. This evolution will continue in a rapid pace and will dramatically impact all industry verticals. One such technology is IOT and it's ability to positively influence decision-making, which will bring about significant improvement in worker safety and productivity.
Guardhat is a system that gives you heightened real-time awareness, a complete and critical field of vision, as well as data analysis you can act on immediately — even preemptively. It is oversight, insight and foresight.
Saikat Dey who is the CEO and founder of Guardhat had a clear mission to save lives of workers engaged in hazardous industrial environments apart from building a great technology company.
This opportunity personally allows me to work in a space that is not only cutting edge from a technology perspective but is also invested to improve worker safety and potentially save lives, which is a huge added impetus.
3. How do you think Edge data is upgrading the Industrial Workforce arena?
Historically in the space of industrial workforce, technology was primarily aimed at increasing machine efficiency and it continues to be like that for the most part even today.
The significant increase in computing power plus the affordability of sensors gives corporations an opportunity to harness data close to the job site to take actionable decisions. Additionally evolving AI/ML technology to analyze real time data makes it possible for corporations to empower the industrial workforce to take decisions in real time, which are consequential in nature, you can suddenly make the worker much more safer and way more productive.
Let me give you an example, we have implemented a solution using our platform which detects the proximity of vehicles like forklifts to workers in real time and warn them to prevent accidents from happening, this is a real-life application of Edge Data being captured, harnessed and acted upon using the technologies that I have spoken about.
4. Why do you think smaller industries should make a move to RTLS and Data platforms?
RTLS allows you to locate assets and people in real time and take necessary actions as required saving valuable resources and time. Smaller industries will adopt this technology because it will bring down their operational cost as well as make their workers more productive and way safer. A safe worker and workplace will lead you to hire, retain better talent which will have a positive impact on your bottom-line. Smaller companies have to pay significant amount of premium to maintain their worker compensation insurance policies, a technology like Guardhat brings down the risk profile of your worksite, I anticipate insurance companies will work with their customers to reduce their worker compensation premiums because it is a win-win for both the insurance company and their customers.
5. How do you think data analytics and IoT solutions are impacting the safety and productivity of industrial workforce?
Let me give you an example. A worker wearing one of our device, which is connected to our software platform, will automatically know in real time if the ambient noise level in an industrial area is higher than normal. The supervisor will be notified immediately apart from the worker, which will empower them to take a real time decision to ask the worker to get to a zone, which has normal ambient noise levels. This action will potentially prevent an accident. The data gathered from our devices and software platform will be able to identify the source of the noise e.g. a malfunctioning machine that will prompt repairs to the specific machine part way before it breaks down and hence prevent additional costs apart from enhancing worker safety.
As you can imagine from the above example the iot solution in this case a combination of our devices and software platform can be extended to address a multitude of worker safety and productivity functional use cases. It could be extended to exertion levels that a worker is facing, gas exposure, ppe compliance etc. The audio, video, PTT capability of the platform and the devices can increase productivity, training and real time collaboration with executives and supervisors not on the job site.
6. Guardhat is collaborating with Westinghouse for delivering a connected worker solution. Can you lead us onto that?
We are proud about our partnership with Westinghouse, which is an iconic company in the Utility space. Westinghouse had the foresight to leverage cutting edge technology to improve worker safety and productivity in the nuclear industry. Westinghouse has unparalleled expertise in the nuclear industry and they are bringing their process knowledge to this partnership and partnering with our path breaking technology to improve productivity and safety for the nuclear and power industry workers worldwide.
7. What impact do you think this new solution will have on the nuclear energy sector?
Simply put this solution does not exist in this industry and we are seeing great enthusiasm among large utility companies to evaluate and potentially embrace this technology. Companies will realize that they have an opportunity to create a safer workplace for their colleagues in hazardous industrial environments, which will not only lead to better safety outcomes but also significantly increase productivity.
The key differentiator for this relationship is the power of Westinghouse's industry expertise, which will give companies in the power industry the confidence to adopt this technology because one of their own has realized benefits from this technology.
8. What digital innovation in the tech space do you think will make its mark in 2020?
There are quite a few…We will see the power of 5G in action for both consumers as well as industries, the increasing and practical usage of AI/ML, conversational AI, multi cloud computing , mass adoption of 3D Printing etc All of this will lead to significant advances in cyber security technology as well.
Most of these are available technologies today, we will see continuous improvement but the key challenge will remain in adoption and that is where mature and future proof leadership thinking will be required, to cut the clutter and identify practical yet ground breaking relevant technology options.
9. How do you pace up with the rapidly developing tech world?
Continuous conversation with customers leads to identification of bottlenecks to improve customer experience. Everything that I have spoken about has to do with improving experience, be it in the safety or productivity space. Technology cannot be created in vacuum and expected to succeed, you first need a valid use case and then figure out a technology solution a lot of companies do the reverse and fail in the process.
10. What book are you currently reading?
Nothing on business I have started re-reading the entire work of Charles Dickens.
11. What is that one quote that you swear by?
"The role of genius is not to complicate the simple, but to simplify the complicated." By Criss Jami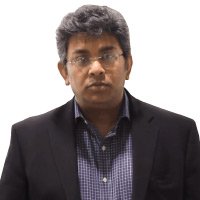 Indranil (Rony) Roychoudhury
Indranil (Rony) leads growth at Guardhat. He is responsible for customer acquisition, marketing, alliance, implementations and creating a channel partner eco-system for Guardhat globally. He works closely with the engineering team to collaborate on the future product roadmap for Guardhat based on the direct feedback that he and his teams get from customers, analysts and partners.