Greg Ball, VP of Engineering, Artificial Intelligence/Machine Learning, Relativity talks about the role of AI and data management for efficient discovery & compliance
1. Can you tell us about your role at Relativity?
As VP of Engineering, Artificial Intelligence/Machine Learning at global legal and compliance tech company, Relativity, I'm focused on ensuring that our technology allows our customers to make the most of their data via algorithm development that can provide the best understanding and surface the most relevant information in their discovery process. I run our analytics, big data, and data science initiatives from a technology perspective.
2. Can you tell us about your journey into this market?
I've spent much of my career in consumer facing web businesses, with over half my career in online travel technology and platforms. Most recently, I was CTO of a retailer focused startup. Much of my recent experience has been consumer facing and cloud centric, so I bring a mix of platform-centric (what kinds of solutions can a customer create with our platform) as well as customer lens (how easy to use is our platform, how consumer friendly).
3. What is the role of a cloud platform in tackling compliance projects?
The cloud brings the opportunity to look across our entire data set for predictive patterns, and the opportunity to integrate cloud AI solutions more natively to enrich datasets to help our customers find the most relevant "needle in the haystack." The cloud also creates the opportunity for rapid distribution of the best kinds of predictive models – upgrade cycles happen at the platform level, so a customer can get the latest features quickly.
4. What's the future of AI in the legal and compliance technology industries?
Technology is moving quickly, and so where we'll be in five years is hard to predict, but it's exciting to think about. For example, natural language processing techniques and capabilities are moving quickly and becoming more sophisticated. Our ability to have a computer understand, and create a true, semantically linked knowledge base with insights as to which connections are the most interesting, progresses each year.
Ultimately, I see the role of technology as a trusted copilot to an attorney doing an investigation; the computer might challenge the attorney, suggesting alternative paths through the investigation, or teasing out alternative strategies.
A simplistic analogous example might be what's possible when a computer plays chess – the computer is able to challenge the human player, and suggest alternatives, instantly. I see the same analog, over time, with attorneys and compliance professionals assisted by AI.
5. How does Relativity use AI to tackle data problems?
We use AI to help our customers organize data, discover the truth and act on it. There are various AI tools that solve different data problems. For example, capabilities like clustering and language identification allow you to organize and prioritize your data for deeper analysis. Tools like keyword expansion and communication analysis help you uncover new terminology and unknown people of interest. There are many ways for AI to amplify and augment human expertise in order to efficiently tackle ever-growing data volumes.
We are a data centric business, and so we are finding more uses of data in every possible way. One such example relates to making sure our system is performant and available; we are looking at core systems performance, correlated with customer activity, to ensure that we are proactive about our capacity. This ensures that customers interact with a responsive, performant system.
6. What are the advantages of using AI in e-discovery?
First, the scale of data, and the types of data is rapidly changing; today's landscape includes video conference recordings, audio recordings and transcripts, text messaging, and cloud-based productivity platforms. All of these points of interaction create huge swaths of data, more every year. AI is uniquely suited to allow for the analysis of this mountain of data in a time-sensitive and cost-effective manner.
7. What are the major developments you are planning, in recent times?
We continue to invest in our systems to ensure that AI can be applied to all available matter data in an efficient and cost-effective manner, as well as to broaden the set of AI tools via new predictive algorithms and models. As such, we are investing heavily in our data management systems, and integrating more natively with our AI toolset, so that document enrichment and insights can [ultimately] happen as data comes into the platform – in essence, automatic AI and insight. We want the user experience for AI to be seamless.
8. What advice would you like to give the upcoming tech companies?
It's an exciting time for AI; there's a sense that the tech industry at large is seeing the material value of data and AI efforts accelerate especially for platform players with interesting data assets. Given the large problem spaces, and the scale of datasets, solving a tough but fairly narrow problem will create huge value for any business or platform that processes a ton of data. I'd focus narrowly on a hard but solvable problem and then plug into platforms to prove value.
9. What movie inspires you the most?
I watch a lot of movies so there's a ton of good examples. Personally, I play a fair amount of golf so "Tin Cup" is fun, where Kevin Costner plays a down-on-his-luck golf pro who finds himself contending for the US Open – it's every golfer's dream to be in contention in a big tournament and try to pull off "the shot." More recently, and more inspiring in terms of what humans are capable of – is "Free Solo," about Alex Hannold's free climb up El Capitan. I'm somewhat afraid of heights – so I'm amazed by anyone who attempts such things. Watching that movie made me nervous (and inspired) the whole time – what determination!
10. We have heard that you have a very joyful work culture, we won't mind having a look at some of the pictures?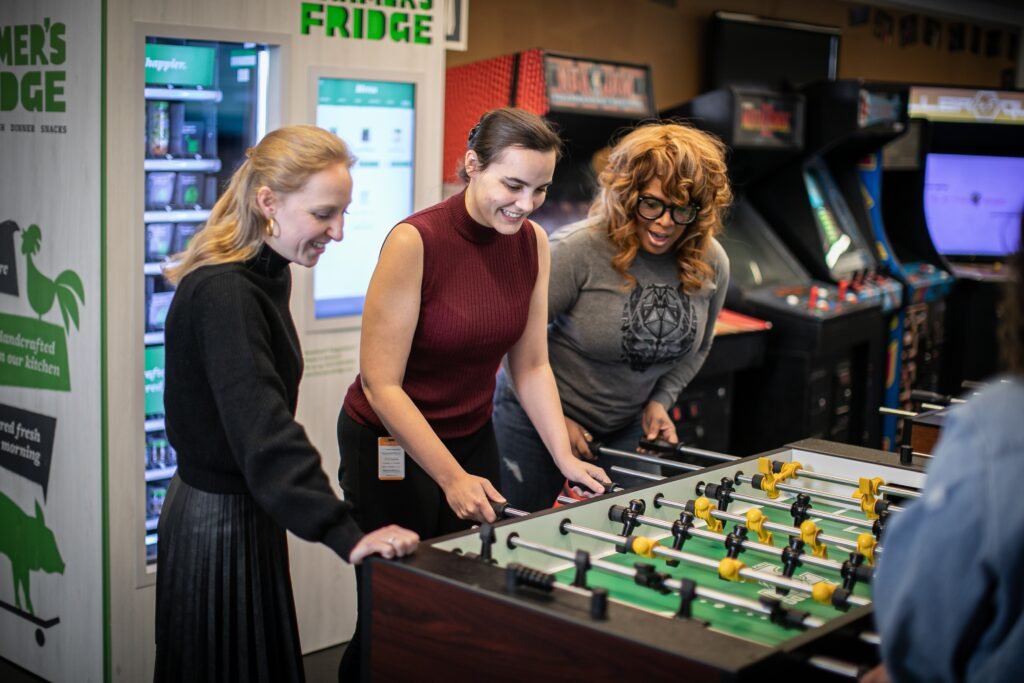 For more such updates and perspectives around Digital Innovation, IoT, Data Infrastructure, AI & Cybsercurity, go to AI-Techpark.com.
Greg is VP Engineering, Artificial Intelligence/Machine Learning at Relativity, an e-discovery & compliance software to help people organize data, discover the truth, and act on it.