Marika Roque talks about privacy laws, challenges in CTV / OTT channels and accountability standards
With privacy laws getting more stringent due to the shift away from cookies and the collection of other personal information, targeting and adding value to ad placement utilizing contextual data is at the forefront of the industry, especially as CTV/OTT supply continues to grow.
I remember years back when contextual products were on every activation in-market, and now I can't wait to see what unique contextual offerings emerge as innovation pushes away from cookies and into context.
KERV is uniquely poised for this evolution as we are the leader in AI-driven, in-video-recognition-powered metadata.This data fuels both in-video, contextual-data solutions for unique CTV/OTT contextual targeting capabilities, as well as offers interactive and/or shoppable responses for the future of video in historical, in-article keyword products.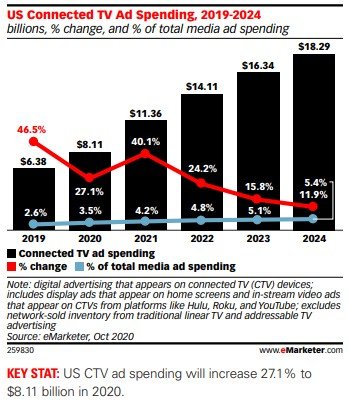 Current Problems with CTV/OTT Targeting
eMarketer and others state that measurement, ad fraud and targeting are all major challenges when buying CTV/OTT, yet this channel is outpacing all other screens in ad spending.
This means that CTV supply is being bought within some of the loosest targeting practices in digital media. Many buyers report not even being able to target specific shows within their CTV/OTT buys, let alone targeting pre-bid. Even with this lack of targeting or accountability, this channel's ad investment will
still
rise to over $16 billion by 2023, according to eMarketer's November 202 US Connected TV Advertising report, which took into account the COVID Pandemic's impact on the habit of streaming. "The pandemic reduced people's disposable income, which contributed to a record year in cord-cutting, with a 7.5% decrease in traditional Pay TV households." CTV/OTT ad inventory sets are poised to see major gains from these trends and pairing their supply with 1st-party audience data will be key.
But where else will the accountability stand?
Measurement and ad fraud in the CTV/OTT space have quickly emerged without consistent definitions and standards across infrastructures and systems. Buyers are not currently able to seamlessly buy the same audiences across disparate platforms. Nearly 6 out of 10 marketers said that when they added CTV/OTT to their buys, they purchased impressions without knowing their reach, frequency or effectiveness.
Must buyers sacrifice measurement for viewership gains? Currently, that is exactly what is happening.
This is where publishers' first-party data will be crucial to better inform ad spend for brands and buyers. The IAB has identified first-party data as a key video focus for ad buyers in 2021 with 77% of advertisers indicating that "robust first-party data" is important in deciding on digital video partners. Buyers cite targeting (46%), quality content (61%) and brand safety (60%) as the key benefits of CTV/OTT and the targeting capabilities are still relatively light.
CTV/OTT Growth & Trend Analysis
The recent IAB's Joint Research Council and Media Center Meeting also delved into the core trends across the space, including streaming, TV, targeting in a shifting environment and shoppable video (along with a few others). Almost everything on this list can connect with KERV's 2021 and 2022 roadmap.
CTV/OTT saw its largest gains yet in 2020 with a sizable 22% growth year-over-year, while desktop (+3%) and mobile (4%) saw much more modest upticks. CTV/OTT growth and brand safety is also making it the supply of focus. Buyers are interested in optimizing and building out more targeting capabilities, which is only driving up premium content's value on the publisher side. This trend is expected to persist with this channel set to take 35% of the share of video in 2021.
For CTV/OTT, KERV is pivoting the use of our powerful in-video metadata engine to fuel contextual data segments in partnership with technologies such as IRIS.TV, publishers such as SevenWest, SSPs such as SpotX, as well as media buyers.
The Impetus Behind CTV/OTT Spend
The primary driver of the increase in CTV/OTT spending, on top of the Pandemic's impact, has been the deprecation of cookies and mobile IDs along with the increase and access to this supply in more flexible ways. These trends aren't a huge surprise, but the eradication of cookies and increase in privacy is going to heighten the importance of premium supply while simultaneously increasing the value of publishers' consumer data. This will be interesting to watch as the increase in programmatic-based media distribution allowed the purchase of audiences based on cookies to be a relatively simple process. Now these strategies will all need to shift towards higher-value supply sets paired with unique data and/or innovative contextual targeting offerings. Publisher cohorts have been discussed as a solution for smaller publishers looking to capitalize on this market shift. These smaller cohorts will need to be forward-thinking with these advanced contextual solutions to keep some market share in a very competitive space.
KERV's Answer
KERV is taking an API-first approach to CTV/OTT and doing what we can to avoid the SDK management madness. We want to follow the buyers and optimize our contextual data segments to be available wherever they are buying. Publishers will have control in terms of holding some segments for direct and/or AG/PG buy types, but these will most likely end up yielding for the buy-side as the quality of publisher-side data will only increase as we get back to the "content is king" way of thinking.
For more such updates and perspectives around Digital Innovation, IoT, Data Infrastructure, AI & Cybsercurity, go to AI-Techpark.com.