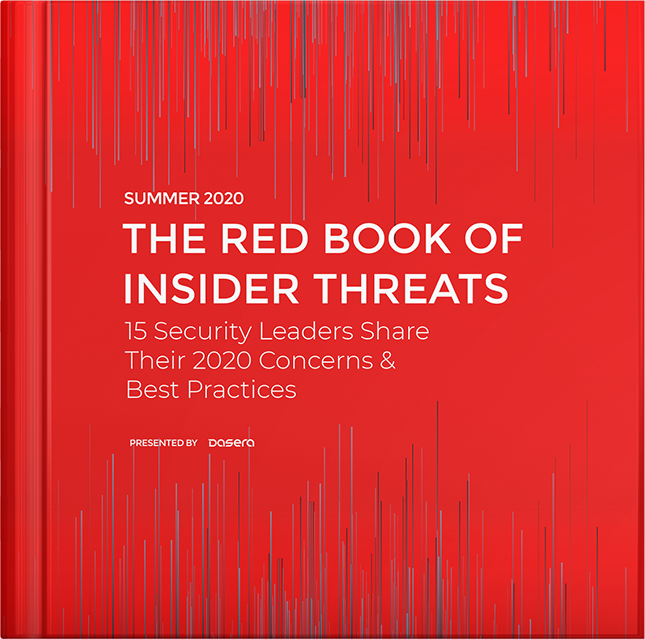 Cybersecurity startup Dasera announced that its publication of The Red Book of Insider Threats – Summer 2020 has been met with tremendous cybersecurity industry response, with hundreds of CISOs, CIOs and product leaders requesting the hardcover book and more than 5,000 online readers. The book is co-authored with 15 CISOs, CIOs, and technology leaders, and dives into how these practitioners view and deal with insider threats, particularly in the current pandemic landscape and Work From Home trend.
"We are pleased that The Red Book has been received so enthusiastically by the cybersecurity community," said Dr. Noah Johnson, CTO and co-founder of Dasera. "This response validates our mission for 'open sourcing' the discussion around insider threats, and we're creating a community of co-authors who have an interesting perspective on the subject and want to share it with other security and tech professionals."
Based on its inaugural launch success, The Red Book of Insider Threats – Winter 2020 has already attracted numerous CISOs, CIOs and senior execs who will bring their recommendations. Like the Summer 2020 edition, inputs from these seasoned security and data practitioners will also be compiled in the form of a checklist for organizations to understand their current approach and gaps, which you can access for free here.
Key content pieces from the Winter 2020 book will include:
15-20 CISOs, CIOs, Security & Consulting leaders will share their views on different aspects of insider threats
Actionable insights: Learn from best practices shared by all executives and replicate them within your organization
Think different: The five key chapters of the book invite you to think outside of the box, e.g. does zero trust really work with insiders, how has COVID changed our thinking or perimeters, what's next in the world of privacy and compliance, etc.
Checklist: Leverage the checklist at the end of the book to organize your own thinking on insider threats, along with your team
"Especially in the age of COVID-19, every company we know wants to enable employees with technology and data, but also do so responsibly," added Johnson. "This pandemic has created a new dynamic of Work From Home in the cybersecurity space where we need to talk about insider threats as much as we discuss and dissect external threats."
You can read The Red Book of Insider Threats: Summer 2020 online or request a hardcover copy. If you are a security/tech leader with a perspective on insider threats, we invite you to apply here as a co-author for our next edition.