Technology is changing things in general, but let's explain what you should use to transform homes into smart homes through technology.
Technology supports us in many ways and in many areas. Today, virtually everything is connected to technology, so we benefit from it by saving time and money and working more effectively and productively. Transportation, food, healthcare, and productivity, all nowadays are related to technology. Technology is also helping traditional homes become smart homes, and we'd like to explain how technology accomplishes this.
Differences between the traditional house and smart house
If you are thinking of making your house smart, you are making the right choice because smart homes can make your life easier and could be like a "helper" in your home. In a smart house, almost all things are connected to the internet, from the TV to the heaters that you can control through a smart device. In traditional houses, on the other hand, all things have to be done manually, you have to turn on the TV manually, the heating, the water in the house, and so on.
But let's talk about the pros and cons of smart homes.
Using a smart device to control your home has the following benefits:
You can manage all things with one smart device
Smart home systems are very flexible
Your home will be more secure
You can control your house remotely
You will increase energy efficiency
You can get insights into your home
Since the advantages of smart houses are a lot, let's mention some of their disadvantages of them:
A smart home means you will have higher costs
Always needs internet
Dependence on professionals
Technology is changing things in general, but let's explain what you should use to transform homes into smart homes through technology.
To make your house smart, you first need to choose the devices for your house. Pay attention to which device you want to buy, because there are many of them on the market. Some of the smart home appliances are TVs, stoves, alarms, doorbells, garage doors, and thermostats.
Follow these tips to make your home smart:
Upgrade your WiFi in the house
A smart home device works over the Internet, so make sure you have a strong WLAN.
Some tips to improve the WiFi are:
Move the router, as physically moving the router can cause a difference in speed
Try to change the method by using an Ethernet cable
Change the channel and choose the best one
Upgrade your router in the house to make your Wi-Fi faster
You can use a Wi-Fi extender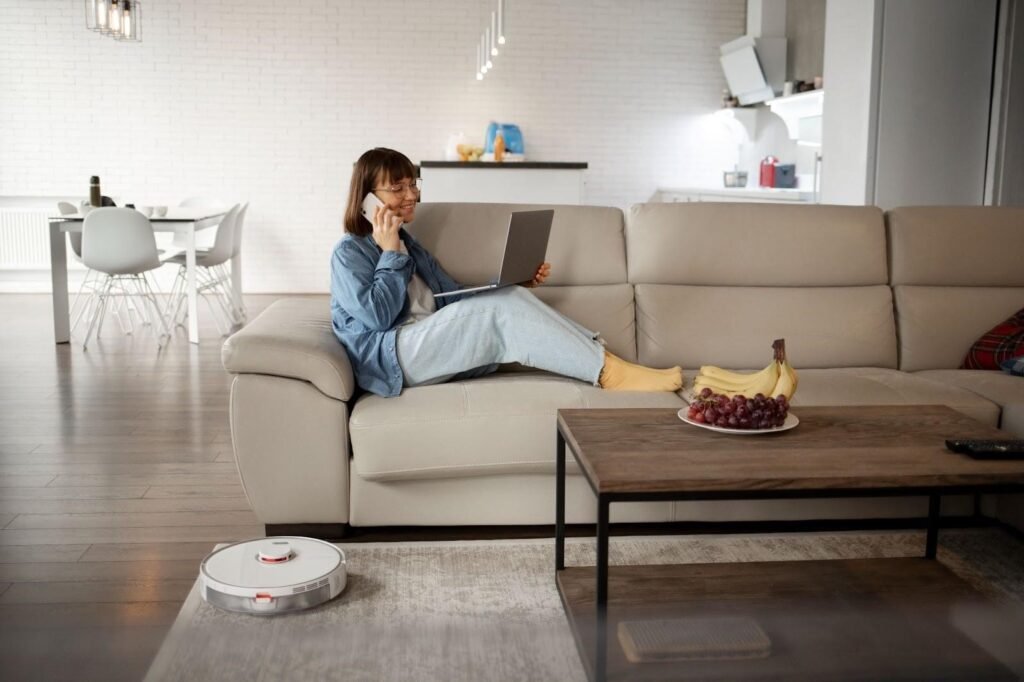 Source: Freepik.com
Do research before the decision
On the market, there are many devices of different brands. Before you choose one, you should consider which is the best for your home. If you do research on the Internet, you can look at the testimonials and learn which devices people feel most comfortable with.
Some of the devices that will make your life easier are:
Smart speaker
A smart speaker is a smart device that is controlled by spoken commands and can be connected to over a thousand home devices. This device can assist you in your daily activities and tasks.
Some of the well-known brands on the market are:
Amazon
Apple
Google
Sonos
Bose
2. Smart Thermostats
The smart thermostat is a smart home appliance that can learn your schedule, adjust itself and balance the temperatures in your home. It saves energy and will help you a lot.
Some types of thermostats are:
Google Nest Learning Thermostat
Ecobee SmartThermostat with Voice Control
Honeywell Home T5 Smart Thermostat
Mysa Smart Thermostat
3. Video Doorbell
A video doorbell is an outdoor camera that can be attached to your front door and notify you when someone presses the doorbell. The camera can detect the motion or the movement of a person.
Some of the best doorbell cameras are:
Arlo Essential Video Doorbell Wired
Eufy Security Video Doorbell 2K (Wired)
Eufy Security Video Doorbell 2K (Battery-Powered)
Google Nest Doorbell (Wired)
4. Ambient sensing
Ambient sensing detects and provides insight into changes in environmental conditions. It works with a range of sensing technologies to detect general changes in the environment.
There are several types of environmental sensors:
Temperature sensors
Pressure sensors
Water sensors
Object sensors
Ambient sensing technology can be installed in and outside the house and help you make your home smarter and safer.
5. Smart robot vacuum
A robot vacuum cleaner is a smart device that cleans your house without you having to do that work.
Some of the robot vacuum cleaners are:
Ecovacs Deebot X1 Omni
iRobot Roomba j7+
Shark IQ Robot Self-Empty XL RV1001AE
Roborock S7 MaxV Ultra
Change the lighting in your home
If you decide to make your house smart, you will benefit from it in several ways, as mentioned before. The lighting system should be one of the things that you pay attention to. One of the best ways is to use LED lights, which are more energy efficient.
Conclusion
Technology is providing us with a variety of tools and devices for everyday use, changing the way we live.
Examples of smart home devices that you should use in your home include motion sensors, robot vacuum cleaners, smart speakers, LED light bulbs, and smart thermostats. By using smart devices, you can save money, and time, and ensure the safety of your home.
Visit AITechPark for cutting-edge Tech Trends around AI, ML, Cybersecurity, along with AITech News, and timely updates from industry professionals!